St Nicolas Street market stalls offer delicious Indian, Italian and Moroccan food, as well as the tasty pies from Pieminster which are a true Bristol favourite!
With all of these restaurants just a short walk from the guesthouse, you're spoilt for choice…
Steak & Cocktails
Mention you're from Brooks guesthouse and get a complimentary glass of fizz when you book – (bookings are essential). Early evening deal is £15 for steak, chips, sauce and a glass of red.
No. 6 in the Top 50 Cocktail Bars
A prohibition style bar with buzzer entry, table service and some of the best craft cocktails in the city – (booking is advised). One of Bristol's best kept secrets just around the corner.
Located on Bristol's iconic harbourside, Riverstation is the perfect place to enjoy breakfast, lunch or dinner all year round.  With it's stunning terrace, balcony and unrivalled views of the river, it can only be described as one of the best alfresco dining experiences in Bristol.
The Glassboat Restaurant and Bar
The tables look out to the water through large, restored wooden windows, with views around the harbourside and to the city. On the lower deck original oak panels and portholes create a unique atmosphere for private dining.
Pata Negra is a bustling, Spanish tapas & wine bar in the heart of Bristol's Old City.
Pho is a family-run business serving great value, healthy Vietnamese street food that is cooked fresh daily (no central kitchens!).
Bambalan Mediterranean & North African Cafe and Bar
All dishes are prepared daily and cooked in a wood fired oven, charcoal robata grill or charcoal rotisserie for added flavour.  All ingredients are locally sourced wherever possible. With excellent views over the city centre from the rooftop terrace, it is the perfect summer dining spot.
Situated in the heart of Bristol's Old City, Source offers a unique food experience where you can buy the freshest produce from the shop and eat from a seasonally changing menu.
The shop offers the best in fish, meat and poultry, game, cheese, fruit and veg, complemented by a range of cakes and savouries. The café uses the shop as a store cupboard and the chefs cook amazing dishes as a result.
Best Coffee Hangouts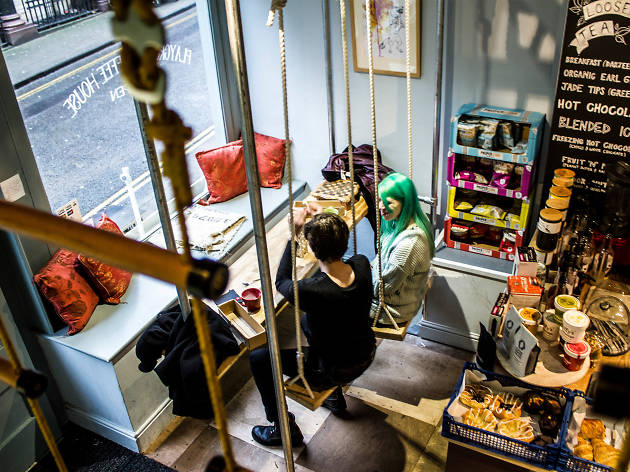 Playground is a speciality coffee shop, craft beer and cocktail bar born from the collaboration of two people, tons of ideas and a culmination of never ending hard work.
Serving amazing espresso, filter, cake & sarnies in Bristol's Old City since 2012.
Opening our doors in 2001 and inspired by the prospect of giving customers a more complete experience, Coffee#1 has remained true to the values we established on day one and that's to make it locally loved – serving great coffee made by talented baristas, in a relaxed and welcoming environment where your time is your own.